Do you want to know how to dress professionally as a plus-size woman at work? These simple tips sure will be helpful.
---
This post may contain affiliate links. This means I will earn a commission if you purchase through my link at no extra cost to you. Please read the full disclosure here.
---
While showing off your work skills, you should also recognize the importance of maintaining a polished, professional appearance.
I always like to stress the importance of cultivating habits that build self-confidence. And clothing plays a vital role in projecting that confidence into your work environment.
Your image is crucial if you intend to be considered for a new job or a higher position, regardless of your size.
Here are some considerations I will mention below specifically for plus-size women.
Tips for plus size women to dress professionally at work
Whether you work in a business environment or a more relaxed atmosphere like the creative one, an office will always be a place to maintain professionalism and take care of forms.
Of course, there are some guidelines to follow, depending on the industry or workplace. However, you will never go wrong if you err on the side of refinement and sophistication.
As a plus-size woman, there are certain keys to which you should pay attention. Here are simple but effective tips for dressing professionally.
Wear blouses and button-down shirts of fluid fabrics such as Georgette and Silk. These fabrics will not stick excessively on bodies.
Stick to neutral colors and avoid bold patterns for a more professional look. However, bright colors aren't always wrong; this will depend on your workplace's dress code.
Take care of your neckline. It is better to opt for blouses with sufficiently conservative necks. That way, you won't risk making others' eyes turn to your girls.
Wear quality fabrics with wide-leg pants that fit your curves without tightening them. Plus-size women can find excellent pants and trousers in stores such as Lane Bryant, Eloquii, Torrid, Avenue, Woman Within, etc.
Steer away from leggings, as they are too tight. Leggings can be tricky as they can take you away from that professional look that you should radiate.
Wear quality underwear to support your figure, but not noticeable through your clothes.
Other important tips to consider
The length should be up to your knees or just a little above if you wear a skirt or dress. Skirts and dresses that are too short or tight are a big No-No for the workplace.
Be careful of sheer garments. Wearing see-through clothes is a surefire way to look unprofessional.
The most suitable footwear for an office environment is shoe closed-toe. An essential thing regarding shoes is comfort and professional appearance. Avoid sandals, nightclub boots, or other models more appropriate for parties and night outings.
If you want to invest some money in suits, make sure you do it well by having a custom tailor to your body. Plus-size women's bodies can be a little tricky, so spending a little more money to ensure the suit is tailored to you is better.
Blazers with either one or two buttons are great for a more professional look.
You can wear your blazers over almost anything, and they will make you look more put together than, for example, wearing only a blouse and trousers. Again, make sure you find the blazer that best suits your silhouette.
Finding the right fit for you can take time, so be patient and persistent.
Finally, the most crucial piece of advice is to look for clothes in which you feel comfortable and confident. Don't settle for less than you deserve. Always look for the best clothes for your body and your personality.
It is not meant to appear as if hundreds of women wear the same corporate uniform.
You should seek a balance between expressing your personality and having a professional look.
10 Outstanding work outfits for plus-size women
1. Navy Suit Outfit
For a remarkable plus-size work ensemble, consider the timeless choice of a navy suit. Its understated appeal, coupled with its elegance, makes it a superb option for the office.
Moreover, the deep hue of the suit holds an inherent ability to enhance the beauty of women with a more generous silhouette.
Opting for a navy suit not only exudes professionalism but also ensures a discreet and sophisticated appearance in the workplace.
GET THE LOOK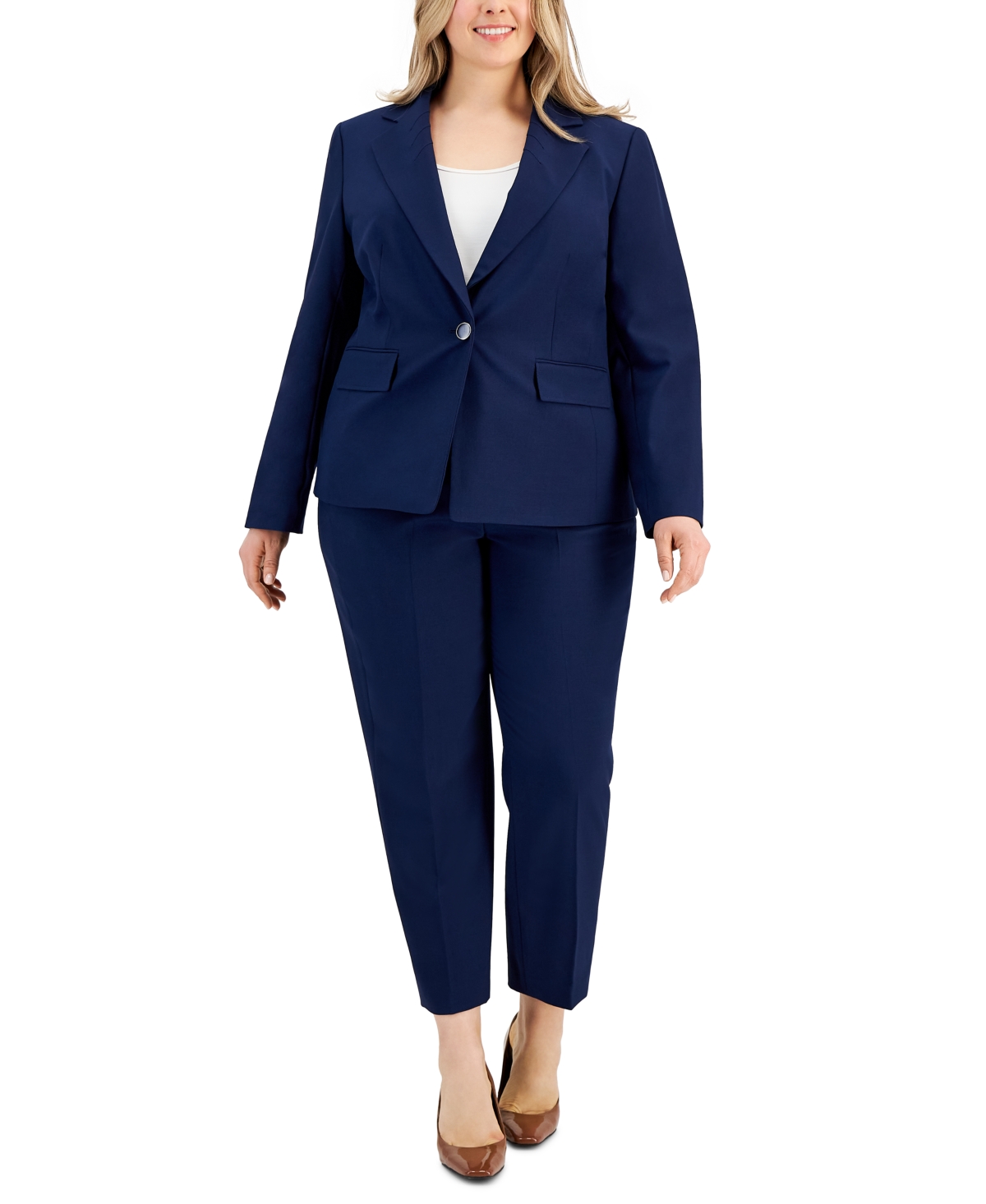 Le Suit Plus Size Stretch Crepe One-Button Pantsuit
GET THE AMAZON OPTION
2. Work Outfit With A Scarf

I've found this fabulous suggestion for a plus-size work outfit that I'm absolutely smitten with.
How about teaming up a stylish blazer and pants in neutral tones with a dazzling blouse that truly reflects your unique personality? To add that extra touch of charm, top it off with a cute and trendy scarf.
Who says you have to stick to a stuffy, overly formal look in the workplace? Let your fashion sense shine, and make a statement with a vibrant scarf!
GET THE LOOK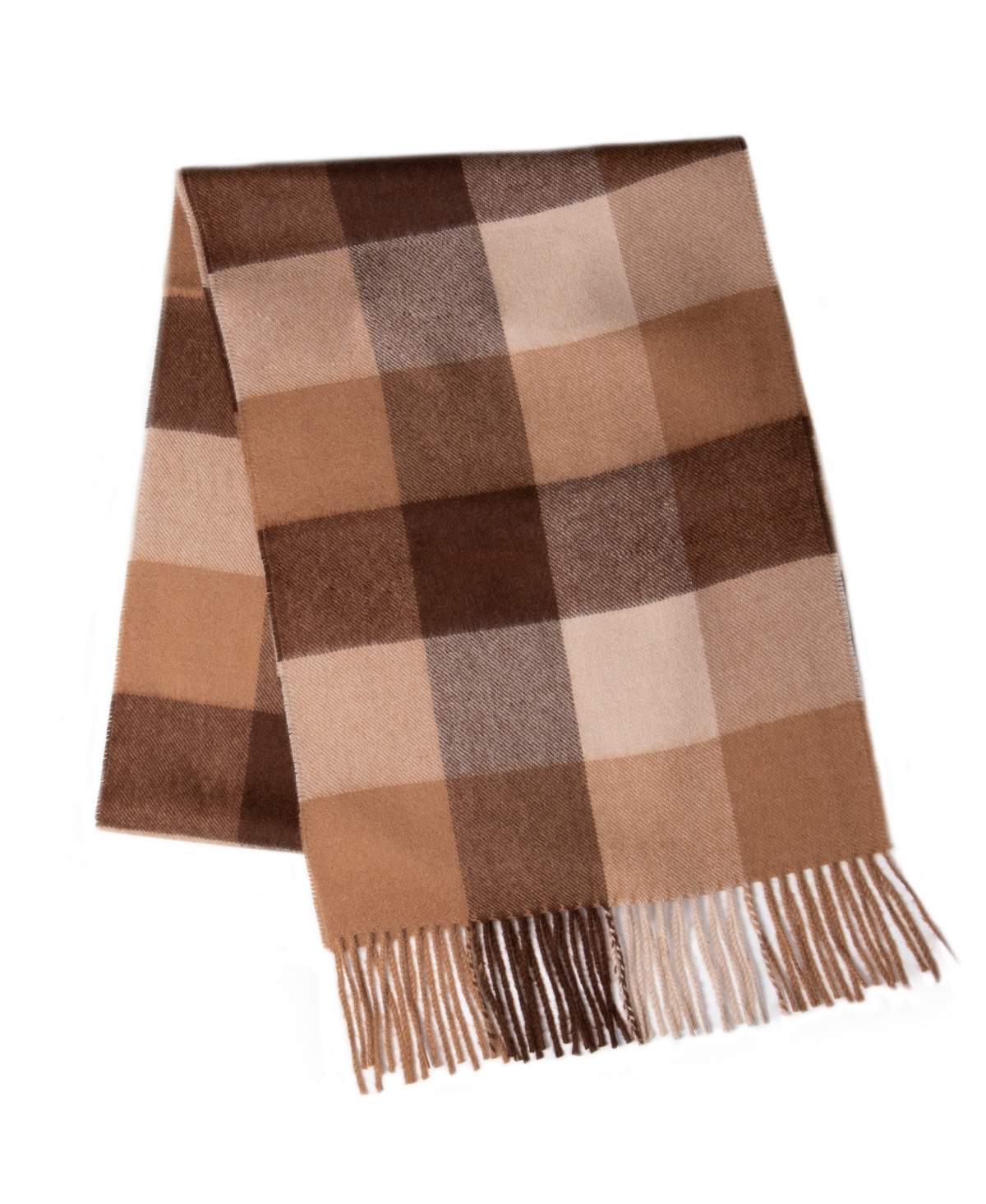 Simply Natural Women's Buffalo Scarf
GET THE AMAZON OPTION
3. Shawl Collar Cardigan Outfit
This office outfit featuring a shawl-collar cardigan exudes professionalism without appearing rigid or formal.
The cardigan adds a touch of casualness and ease to the overall look without compromising the seriousness required in a workplace setting.
Moreover, the outfit's loose and relaxed silhouette ensures all-day comfort.
GET THE LOOK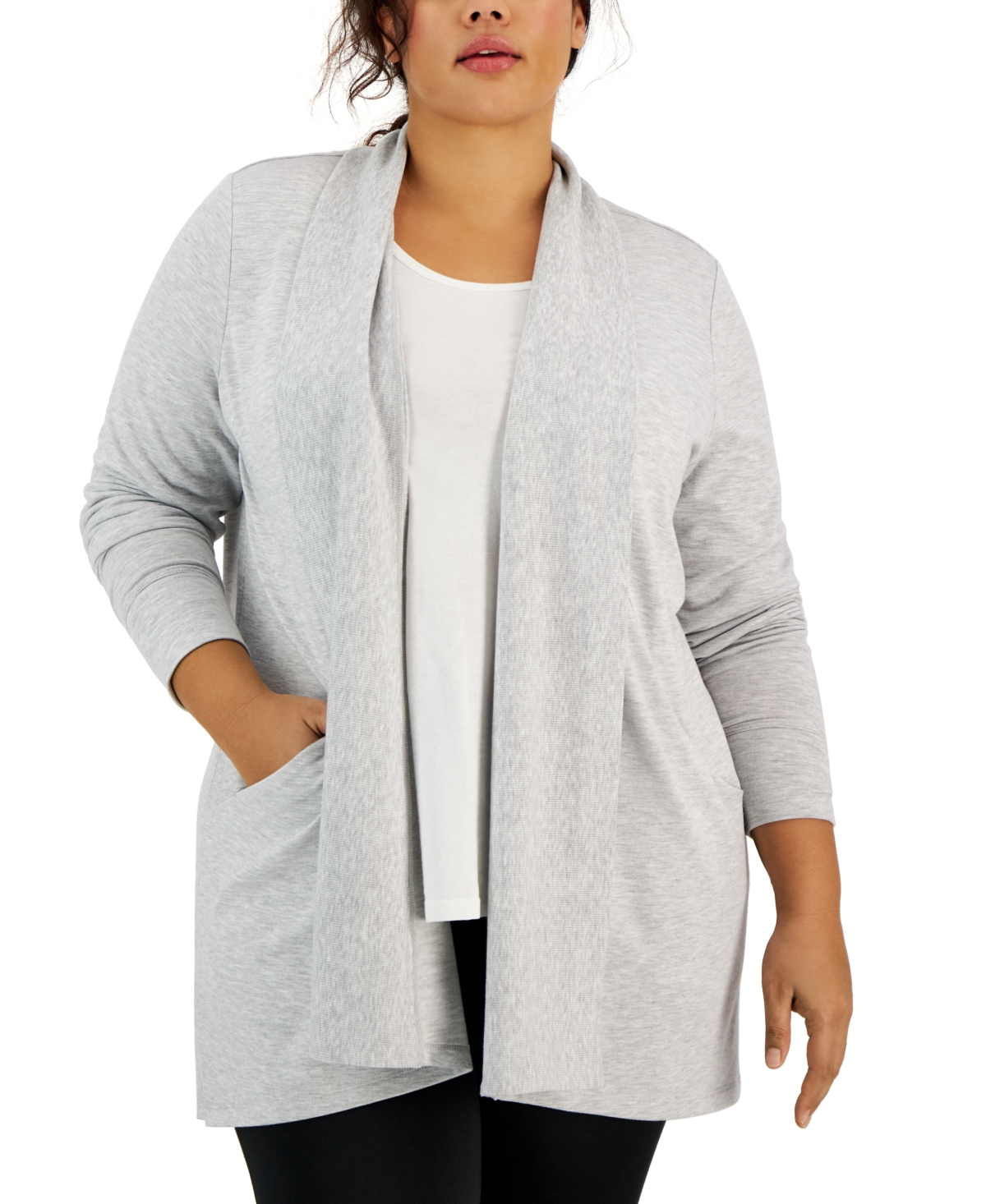 Id Ideology Plus Size Open-Front Shawl-Lapel Cardigan, Created for Macy's
GET THE AMAZON OPTION
4. Wide-Leg Trouser Outfit
Regarding office attire, what are your thoughts on a sophisticated long-sleeved blouse featuring a charming bow neckline? Pair it with a stylish set of wide-legged pants, and you've got yourself a winning combination.
I've handpicked this ensemble as part of our curated collection of work attire for plus-size women, taking into account its flattering design and comfortable fit.
It's the ideal choice for a formal work environment where you can effortlessly exude confidence and style.
GET THE LOOK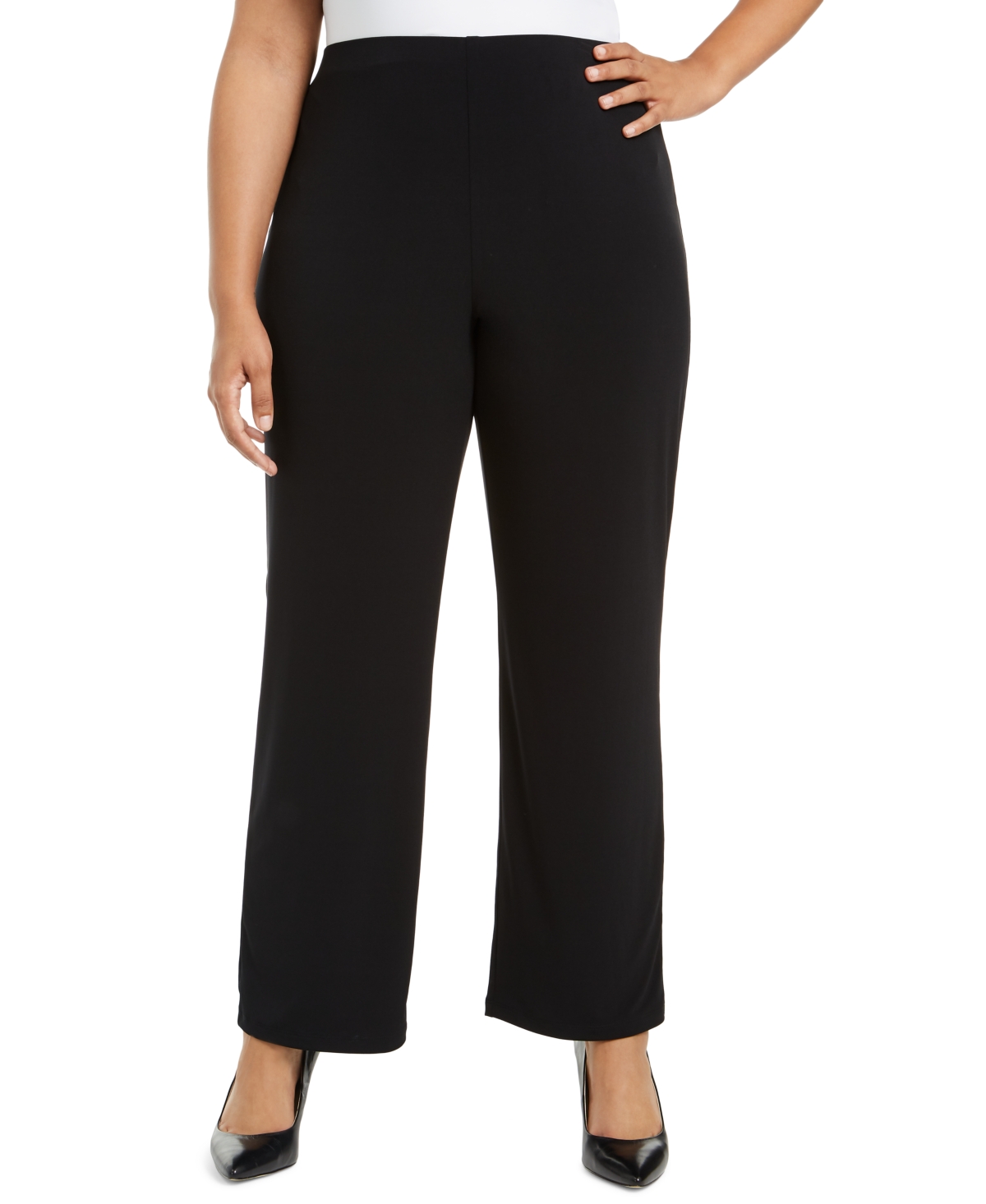 Alfani Plus Size Pull-On Wide-Leg Pants, Created for Macy's
GET THE AMAZON OPTION
5. Black Dress Outfit

Every now and then, the power of a sleek and refined black dress is simply enchanting. It's amazing how something so effortlessly elegant can work its magic.
The key is to choose a dress style that aligns with the office dress code while ensuring it accentuates your unique figure in a flattering way.
Trust me, finding the perfect plus-size dress for your work wardrobe isn't as daunting as it may seem. With the right guidance, you'll discover a world of options that will make you feel confident and stylish throughout your workday.
GET THE LOOK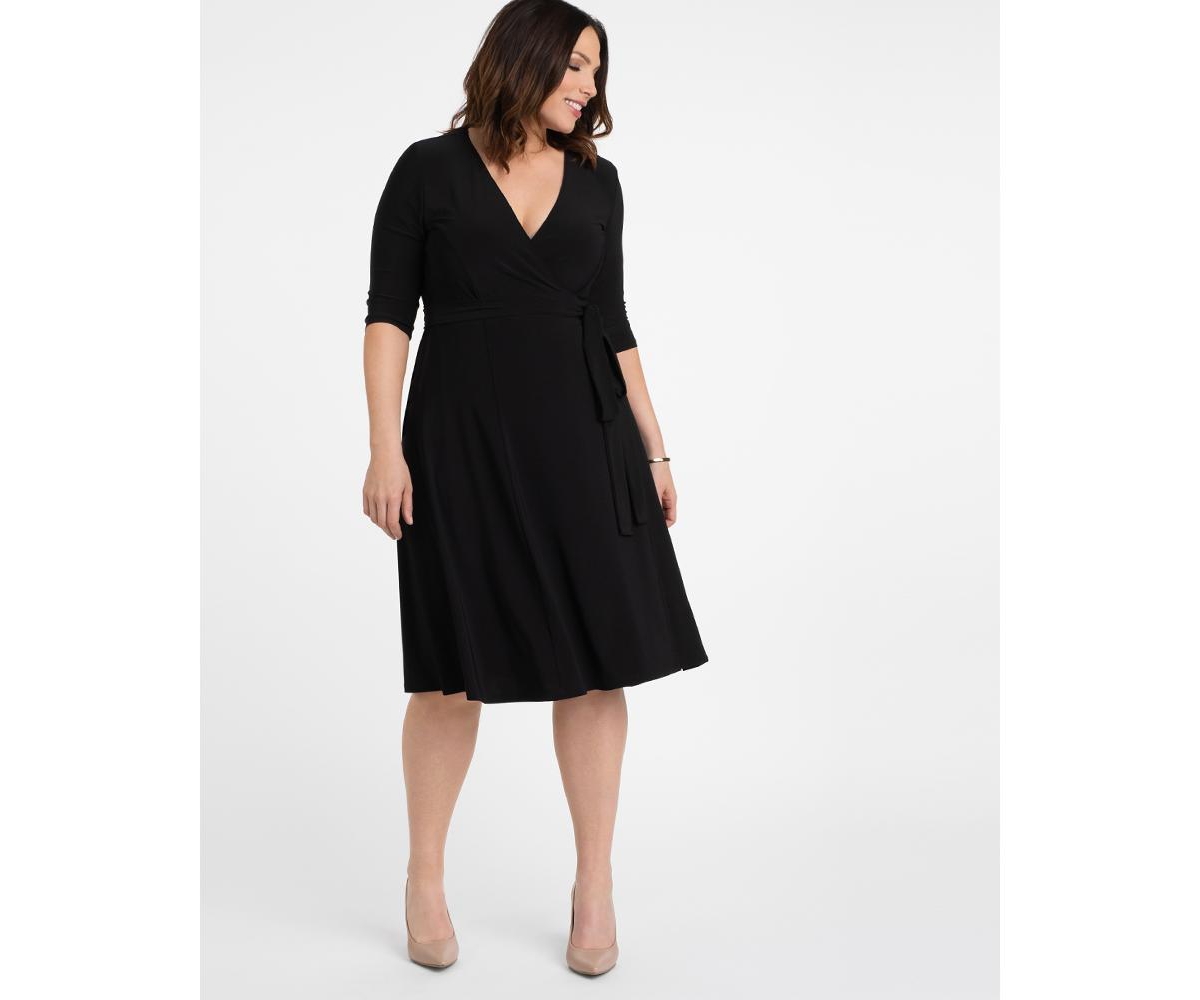 Kiyonna Womens Plus Size Essential Wrap Dress
GET THE AMAZON OPTION
6. Animal Print Skirt Outfit

Let me tell you, I'm head over heels for this sensational ensemble featuring a stunning leopard print skirt. Who says work outfits have to be limited to neutral colors?
It's time to infuse your personal style into your wardrobe, and bold prints like this one are a fantastic way to do it. The key is to balance it out by pairing it with a solid neutral color piece, such as a sleek black top.
To take it up a notch, accessorize with subtle yet elegant accents. And voila! You're all set for a day filled with success and productivity, rocking a winning outfit that truly reflects your individuality.
GET THE LOOK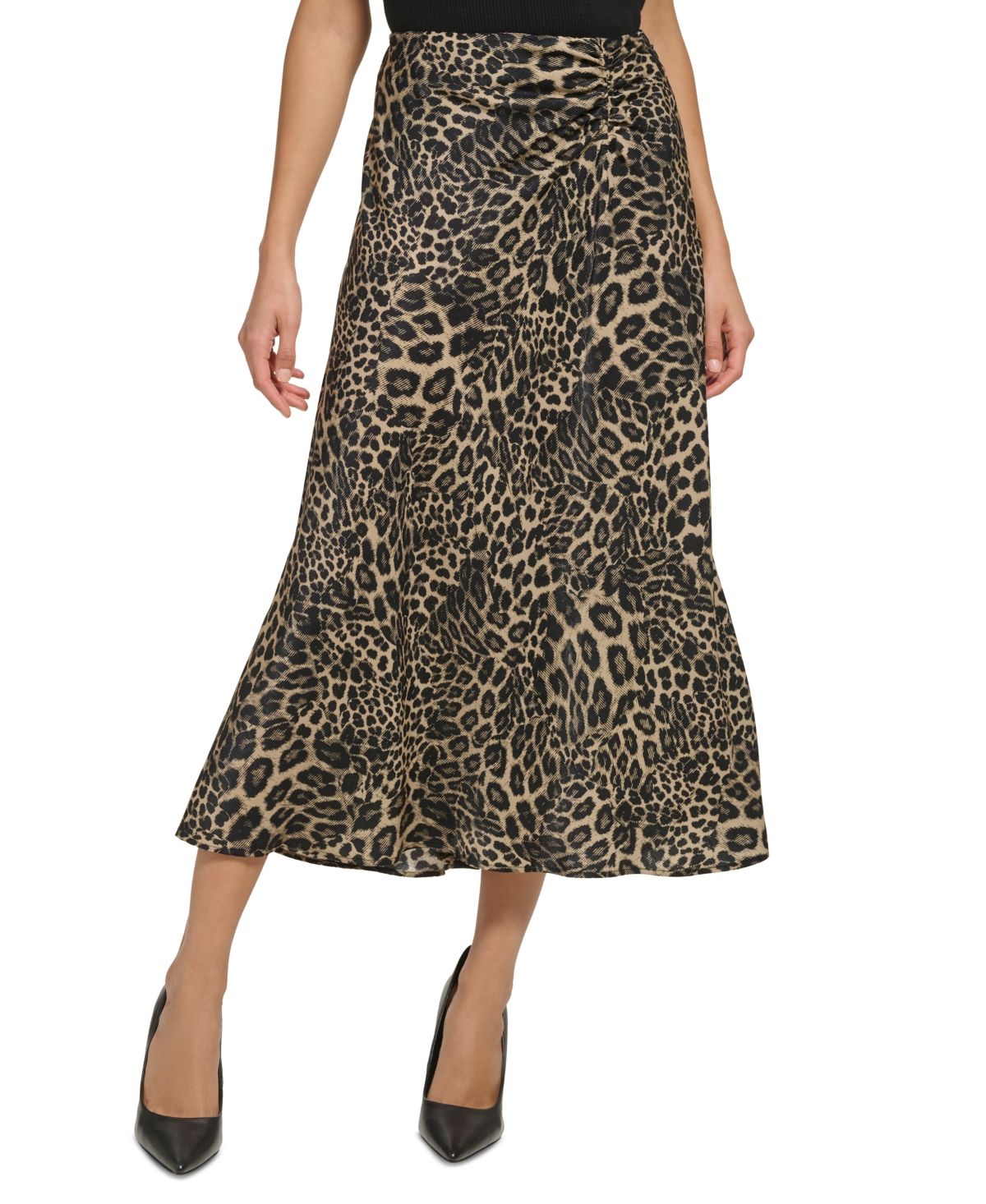 Dkny Women's Printed Ruched Satin Skirt
GET THE AMAZON OPTION
7. Plaid Blazer Outfit
When crafting work outfits that exude versatility, polish, and style, a plaid blazer takes center stage as a top-notch choice. Its timeless appeal makes it a go-to option for creating impactful ensembles.
I like the fact that you can easily find plus-size versions of plaid blazers, allowing you to embrace this trend regardless of your body shape.
Pair it with complementary neutral-colored garments, and you'll be dressed to succeed without compromising an ounce of your personal style.
GET THE LOOK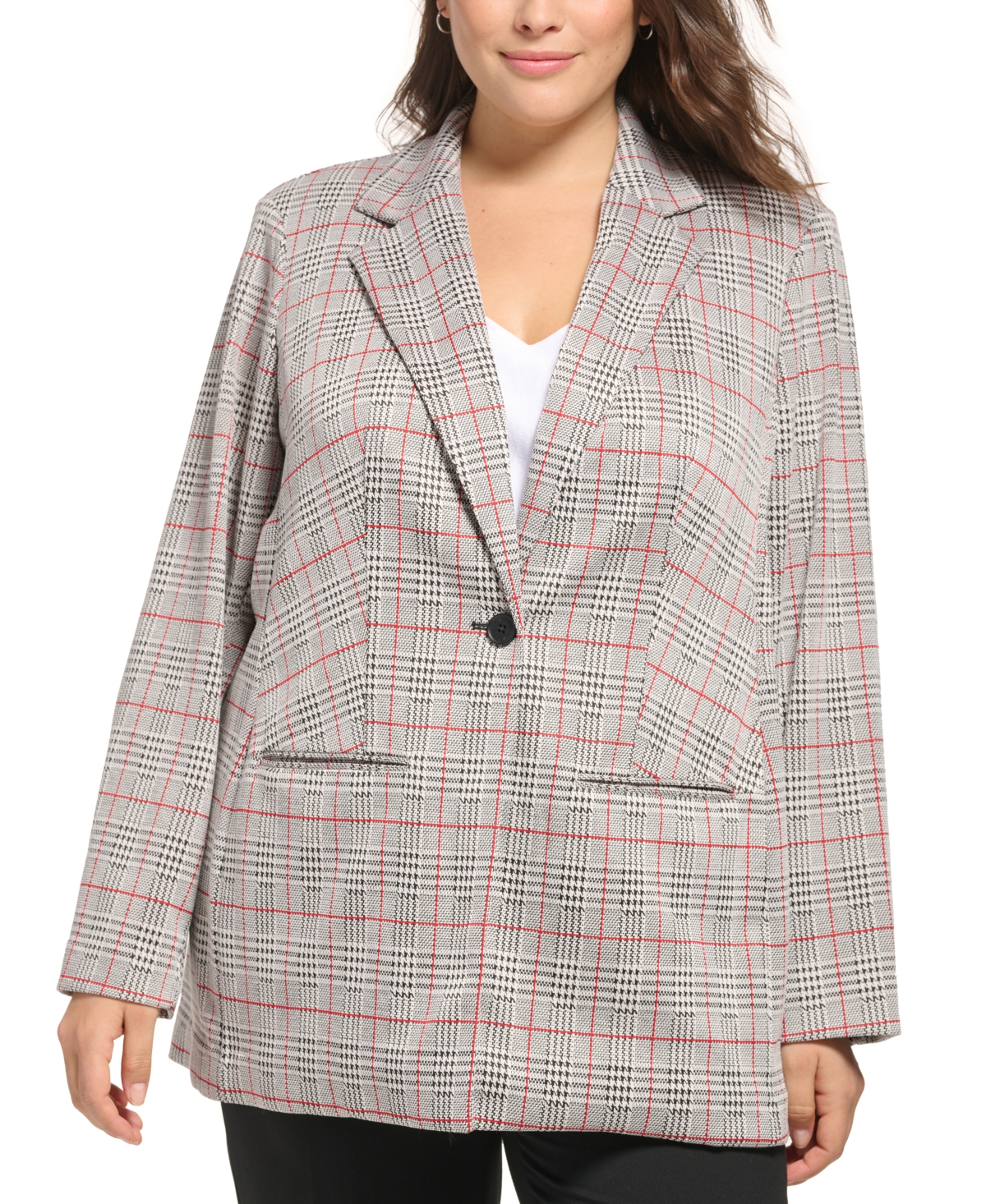 Calvin Klein Plus Size Plaid Notched Collar Jacket
GET THE AMAZON OPTION
---
Are you still wondering how to dress professionally when you are plus-size? No worries. We're still looking for options.
8. Pencil Skirt Outfit
Plus-size women may find it challenging to style when it comes to pencil skirts. However, don't dismiss this classic piece just yet! With a few tips and tricks, the pencil skirt can become a versatile wardrobe staple for work outfits.

Opt for high-waisted pencil skirts in dark colors and stretchy fabric to flatter your figure. Pair it with a top that fits well and complements your silhouette.
If you're conscious about your midsection, consider wearing shapewear underneath your skirt for added confidence.

Remember to check yourself in the mirror from different angles to ensure you're comfortable and happy with your look.
With these tips, you'll have a winning pencil skirt ensemble that accentuates your curves and is a timeless addition to any wardrobe.
GET THE LOOK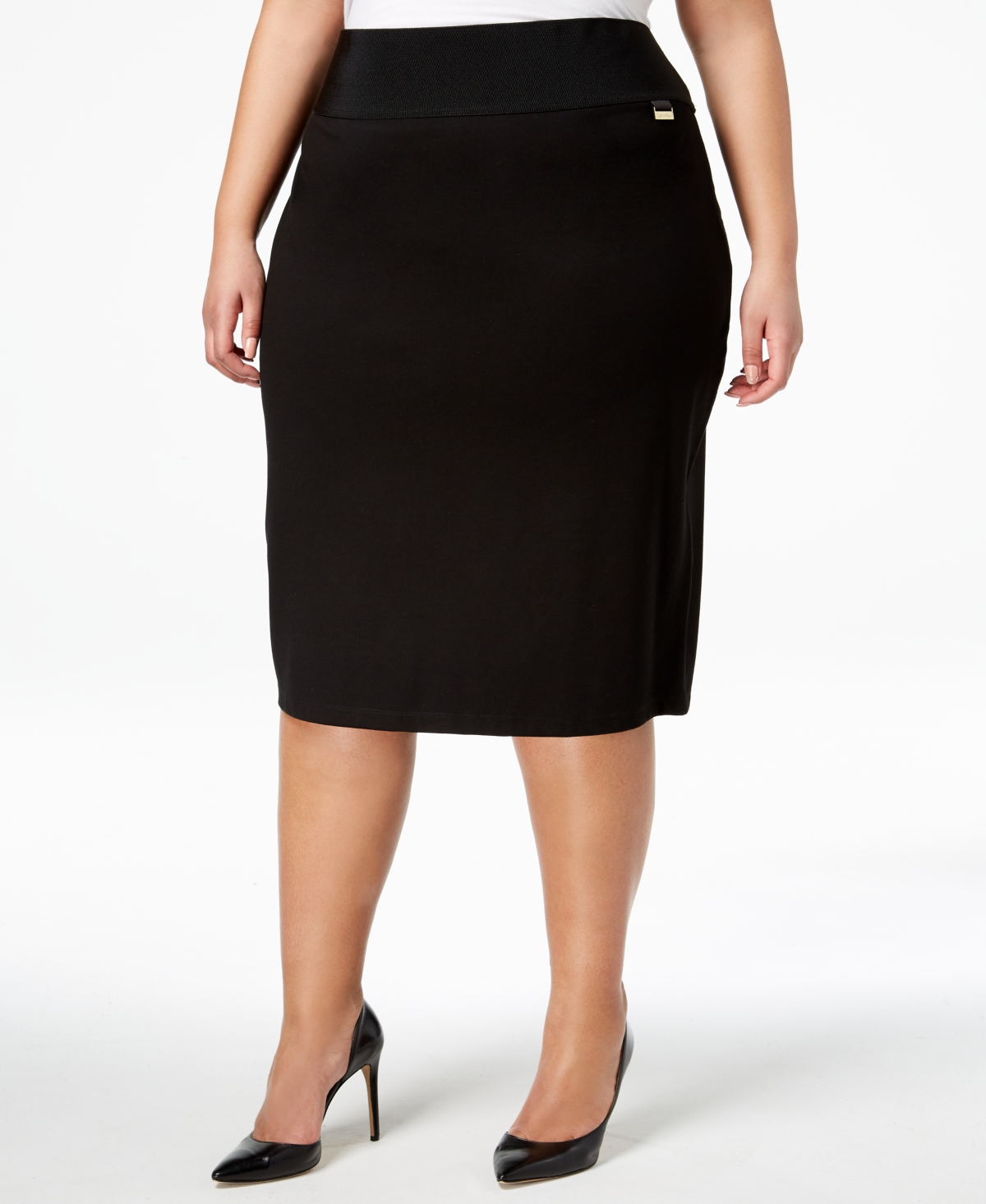 Calvin Klein Plus Size Pull-On Tummy-Control Pencil Skirt
GET THE AMAZON OPTION
9. Red Suit Outfit

Got a business meeting on the horizon and aiming to make a striking impression with an air of vibrancy and determination? Look no further than this remarkable red suit—it's my top pick for such occasions.
Bold, powerful, and exuding a strong business vibe, this outfit breaks free from conventional norms. After all, they say rules are meant to be broken, and I believe the same goes for fashion in the workplace, particularly during special events like a business lunch or a celebratory occasion at work.
Embrace the daring nature of this suit and make a lasting impact that sets you apart from the crowd.
GET THE LOOK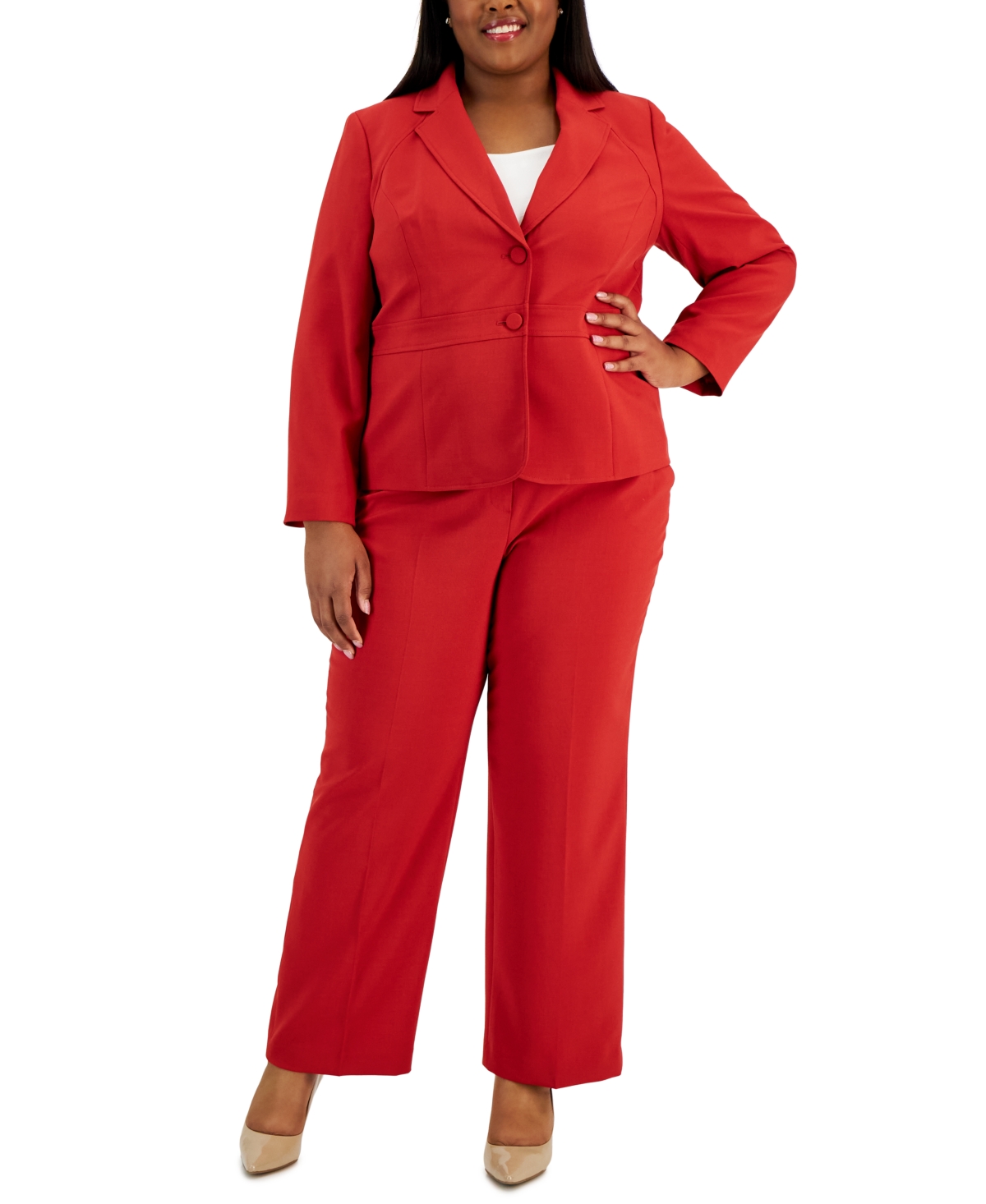 Le Suit Plus Size Crepe Two-Button Blazer Pantsuit
GET THE AMAZON OPTION
10. Skirt Suit Set Outfit
Well, ladies, we've arrived at our final recommendation for a fabulous plus-size work outfit. Brace yourselves because I'm head over heels for this skirt-suit set.
Let me tell you; it's a game-changer for full-figure women. A high-quality skirt suit is one of those must-haves in the work wardrobe of every plus-size woman. They work wonders by skillfully concealing the midsection, leaving you feeling confident and comfortable.
Now, let's get back to this suit—I can't find a single flaw. It's discreet, professional, and exudes an undeniable elegance. Pair it with some chic pointed-toe shoes and matching accessories, and you'll be the epitome of workplace sophistication.
GET THE LOOK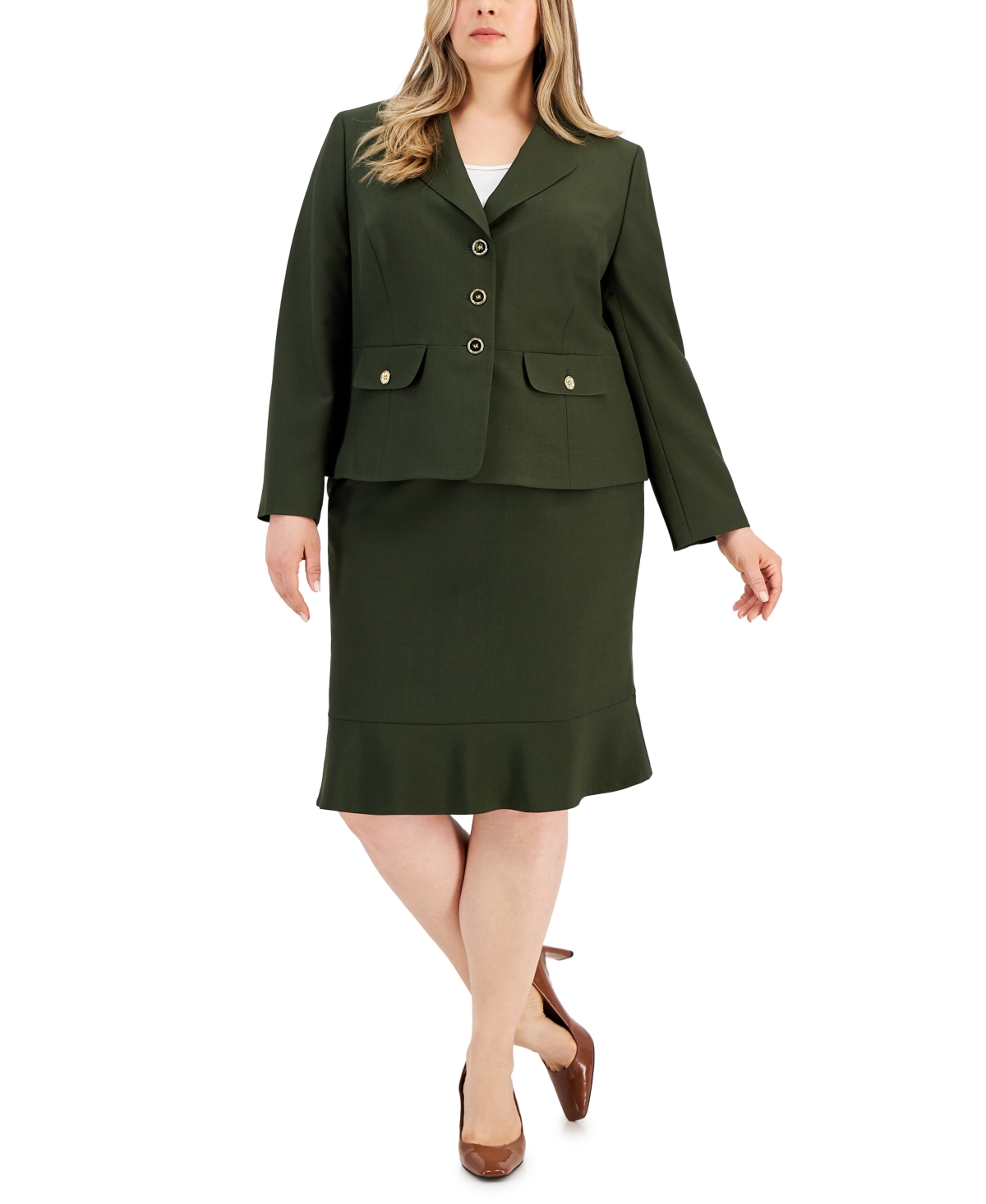 Le Suit Plus Size Three-Button Jacket & Flounce-Hem Skirt
GET THE AMAZON OPTION
---
I hope these guidelines might help you choose the appropriate workwear to take your career to the next level. Now you have some ideas on how to dress professionally when you are plus-size.